We met Hawaii born ukulele master Jake Shimabukuro in Honolulu, Hawaii at the Honolulu Marathon Expo in the Hawaii Convention Center. This is was the first of Jake's three appearances at Honolulu marathon events.
Tonight Jake will play a show at the Waikiki Shell. Last year we heard Jake Shimabukuro play with Jimmy Buffett at the same venue. After the race, Jake will play at the Kapiolani Park bandstand.
Jake began playing the four stringed ukulele as a young child and growing up in the islands influenced his music.
"When I think of the ukulele, I guess to me it has always been the instrument of peace, you know, because when I think of the ukulele, I think of beaches, I think of nature. " Jake says. "You know growing up here in Hawaii, we are so spoiled with nice beaches, and the aloha spirit. That all rings through the instrument. Playing the ukulele, I tell people all the time that if everyone played the ukulele, the world would be a better place. I really believe that. It has really shaped my life and the instrument has really become, I guess a way of life for me. I am very honored to strum that four stringed instrument every day."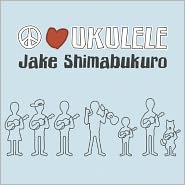 Jake's new album "Jake's website.
Click in the picture below to see my interview with Jake Shimabukuro and listen to Jake play "While My Guitar Gently Weeps."